Monday Nights – 6:00-8:00pm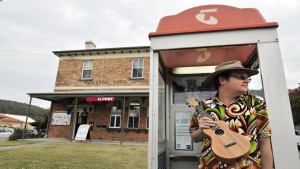 The Paterson Pluckestra inherits the mantle of the Maitland Ukestra that started in mid 2010. Many of the people who attended Maitland Ukestra were from the Paterson / Allyn Valleys, so it seemed like a logical step to try the ukestra thing on a small town.
If they can do it in Tea Gardens, why not Paterson!
These Pluckers are really a talented bunch, evidence of which is in this SoundCloud audio link to their full performance on the main stage at the Newkulele Festival. But don't let this apparent talent put you off from getting involved. We really are a welcoming bunch too.
The deal at Paterson is the same as for Tomaree – $17 for 2 hours (or $145 for ten sessions, usable over a whole year). It runs from 6:00-8:00pm on a Monday night.
If you have never played ukulele before, then Mark will give a beginners lesson ($35 for half an hour for one person, $30 each for two people). Beginners lessons run from 5:15-5:45pm each Monday at the Paterson Tavern, but you need to contact us first.
I can hear you thinking!
'I wish it was in Maitland', well…. it sort of is…only 15 minutes drive from many parts of Maitland. And it is really a gorgeous location.
Relax. In Paterson. With a uke.
Videos
Chris Robinson has now got quite a catalogue of our performances on his youtube page. Meanwhile, here are some judiciously picked examples.
Ukestras Showcase – South Leagues Club – 17 November 2013
Planet Dungog – October 2013
.